I was barely five years old when I first encountered the Curse, or Corps or Corpse or whatever it is called these days. Little young boy that I was, I was fascinated by the very smart uniforms, head caps and yellow boots that hung in the corner of my dad's rom (who knew that those dusty boots were called jungle boots?) My favourite pictures from my dad's old albums were his NYSC pictures. He looked so handsome. There were no protruding tummies, no sight of sneaky strands of beard, no wrinkling brows, and clearly no extensive waistlines. My dad looked ever so sharp in those pictures. I was so enthralled by the heavy yellow boots that I can't recall when I made the connection between those yellow boots and the shirts of traffic wardens (affectionately called 'yellow fever'), but I remember that whenever my dad's co-workers asked me what my future ambition was, I would cheerfully yell "police man!"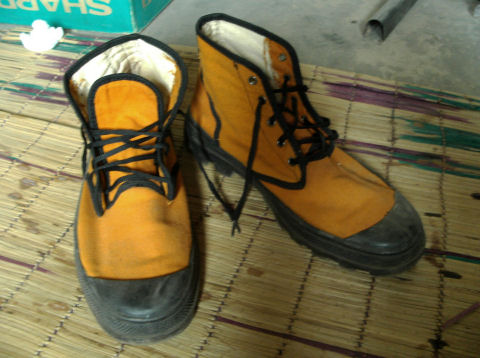 My mum had no visible NYSC mementoes, but what she lacked in pictures, she made up in stories. My mum told several stories about her escapades in the north, between Borno state and Kwara state. I heard about the cities Kutigi and Patigi first from my mum, and I assumed they were neighbouring cities. My mum picked up some words of Hausa and she often helped out with my Hausa assignments in junior high school. If you ever wanted to see my mum's face light up, all you had to do was ask her questions about her NYSC years, and you would have to beg her to stop. She loved her years in the north.
Youth corps members were everywhere around me as I grew up. They taught in public schools in my neighbourhood, they served in my church, and they even drew the admiration of all motorists and passers-by when they occasionally replaced Federal Road Safety officials and served as traffic wardens. They always looked cheerful, excited and utterly welcoming; especially the ones who lived in my parents' boys-quarters. Sister Ngozi and Sister Ogechi were from Enugu and Ebonyi states respectively and nothing smelled as scintillating as their bowls of Eba and Egusi soup on a warm Saturday afternoon. They would invite my brothers and me to share their meals and teach them some Yoruba words, but we always had to ensure our parents didn't see us sneaking to the back of the house. They were such lovely ladies, and you only had to wait to see them leaving the house on Thursday mornings – sparkling white shirts, bright khaki pants and white sneakers. They epitomised the beauty of Nigerian diversity, the worthy prize of any hardworking man and the future of our world.
Having seen my dad's awesome pictures, listened to my mum's engaging stories and lived amicably with Sister Ngozi and Sister Ogechi, I couldn't wait to grow up and join the youth corps. I didn't care what part of the country I got deployed to; I knew that I would make lovely memories and enjoy my year in service of my country. However, between my childhood and my undergraduate years, things fell apart; Babangida annulled a famous election, Abacha died, Obasanjo was released from prison, democracy was instituted, fuel prices skyrocketed, exchange rates reached for the moon, strike actions became more common than common sense, and a sick stranger called Yar'Adua became President. Between all those occurrences, the idea of national youth service was dissolved, Niger-Delta militants sent a strong message to the world that the creeks were not for fishing but for kidnapping, Ife and Modakeke proved that next door neighbours could indeed be the fiercest rivals, and Boko Haram demonstrated that both churches and mosques were fair game.
Nigerians realized that national tourism had grown to become an idea of last resort; that observing the Argungu Fishing Festival and strolling in the Yankari Games Reserves were not sufficient innocent reasons to visit Borno State. The Nigerian youth realized that protecting one's self was more important than serving the country 'under the sun and in the rain', hence receiving a doctor's report claiming that one had been diagnosed with terminal cancer was perhaps far better than being posted to Jigawa State. Ladies hurriedly got married in their final years in the university so that they could relocate from Nassarawa State on the grounds of marriage, and even those who were unlucky to find tall, handsome, and comfortable guys who drove at least a Toyota Camry comforted themselves with the purchase of cheap gold-painted (not gold-plated) rings from Hausa merchants.
My heart goes out to the several hardworking young Nigerians who have been rewarded for their five, six, seven and eight years in sweaty rooms called libraries, dungeons called lecture theatres and in detention cells called lecturers' offices with banishment to military camps in Akwa Ibom, Osogbo and Minna. Three weeks in stark military conditions can be argued as a strategy to inculcate the values of discipline, national integration and self defence, or whatever other reasonable argument the NYSC eggheads are positing these days, but one wonders how much more disciplined young Nigerians are after simultaneously drinking themselves to stupor every night at Mammy Markets across the country. One wonders how much more disciplined young Nigerians are when young ladies take their wedding bands off and romantically indulge wayward strangers in the backs of unfurnished kitchens. One wonders how much more disciplined young Nigerians are when errant soldiers routinely 'feel the bodies' of female corps members under the guise of adjusting their headdresses and correcting their awkward salutes.
In spite of the horrors of the grossly mismanaged three-week detention camps, the real headache for most young Nigerians are stored up in the succeeding eleven months that they are mandated to spend in villages where they are totally cut off from all shades of comfort they have ever known. Serving as Social Studies teachers in government schools in Maiduguri or Kotangora do not compensate for the heartache that accompanies separation from civilization. Admittedly, several impressive projects like constructed wells, rebuilt roads, redesigned roundabouts, statues of the NYSC torch and other community development projects help to galvanize communities but in the larger scheme of things, these ought to be elementary dividends of democracy delivered by elected governments, not donated by the blood and sweat of young Nigerians who are often left unemployed after their 'service to their fatherland'.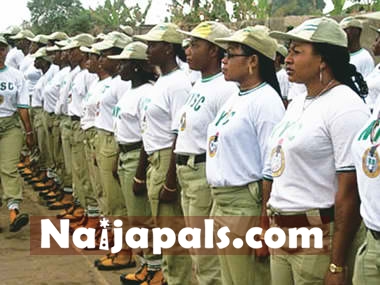 Generations to come would continue to debate the pros and cons of the Nigerian Youth Slavery Curse, but in honour of the Batch 'C' heroes who removed their headdresses one final time yesterday (whether or not they received a passing out ceremony – i.e. Bayelsa corps members), I pray that your khakis are swiftly replaced with suits and that your jungle boots are swapped with sparkly Italian shoes. May your salutes fetch you fat incomes sooner, rather than later.
Keep up the struggle!
You can follow Faith Abiodun on Twitter @FaithAbiodun